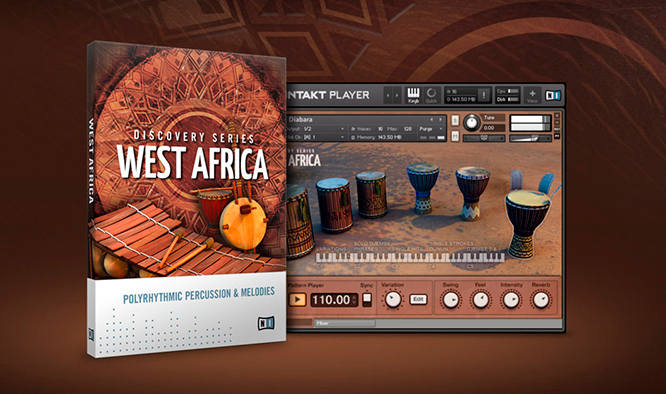 声明:该软件来源于网络搜集整理,仅供参考或学习研究使用,禁止用于任何商业用途,其版权和著作权归原作者所有,请在下载后24小时内删除!
| | |
| --- | --- |
| 运行环境 | Windows MacOS |
| 文件大小 | 1.3GB |
| 语言 | English |
| 上传时间 | 2018-12-22 |
West Africa 1.3 KONTAKT

The latest release in Native Instruments DISCOVERY SERIES focuses on the rich and profoundly influential traditions of West Africa. This KOMPLETE Instrument features a collection of beautifully sampled percussion and melodic instruments, playable individually or as customizable ensembles with highly inspirational pre-programmed patterns. The rhythms of all percussion instruments are also easily editable via the built-in sequencer for instant polyrhythmic groove creation. This instrument is truly a magnificent addition for producers of contemporary and traditional music.

DISCOVERY SERIES: WEST AFRICA features percussion instruments including djembe, dunun and bells, which can be used in the ensemble. Additionally included are the calabash and krin, which can be used as solo instruments. Pitched instruments recreate the unique melodies of the kora, ngoni, bolon, balafon, and fula flute.




The sounds of each instrument have been carefully sampled in high detail, with the possibility to change between traditional and chromatic scales for pitched instruments. WEST AFRICA is an authentic and easy-to-use tool for producing modern rhythms with timeless traditional sounds.

The roots and conventions of West African music involve a number of instruments playing together to produce complex polyrhythmic textures. DISCOVERY SERIES: WEST AFRICA allows for the easy recreation of traditional ensemble playing with one touch of the play button.

The included 74 pre-programmed ensemble patterns give you instant access to stunning rhythms and melodies, easily triggered with one key, while another key triggers additional solos, fills, and single hits. The percussion patterns are also fully customizable with a visual pattern based sequencer and groove controls. When used within a host, the internal sequencer can be synchronized with the tempo and song position.

African musical traditions and West African percussion in particular have long been accepted as the roots of many contemporary musical styles. The influence of African music is felt in the rhythms and motifs of blues, rock, soul, funk, hip-hop, disco and house. In 2011, African music has become a source of genuine creative inspiration for forward-thinking producers across the globe.

Renowned producers and musicians from some of the world's biggest bands have forged strong links with West African music and musicians, while cutting-edge artists producing house, techno, dubstep and UK funky draw directly from the percussive power of the region. West African artists are also seeing a rise in popularity in Europe and the US, with a new generation of fans exploring the musical cultures of one of the world's most fertile musical regions.

Home page: https://www.native-instruments.c ... frica/demo-version/